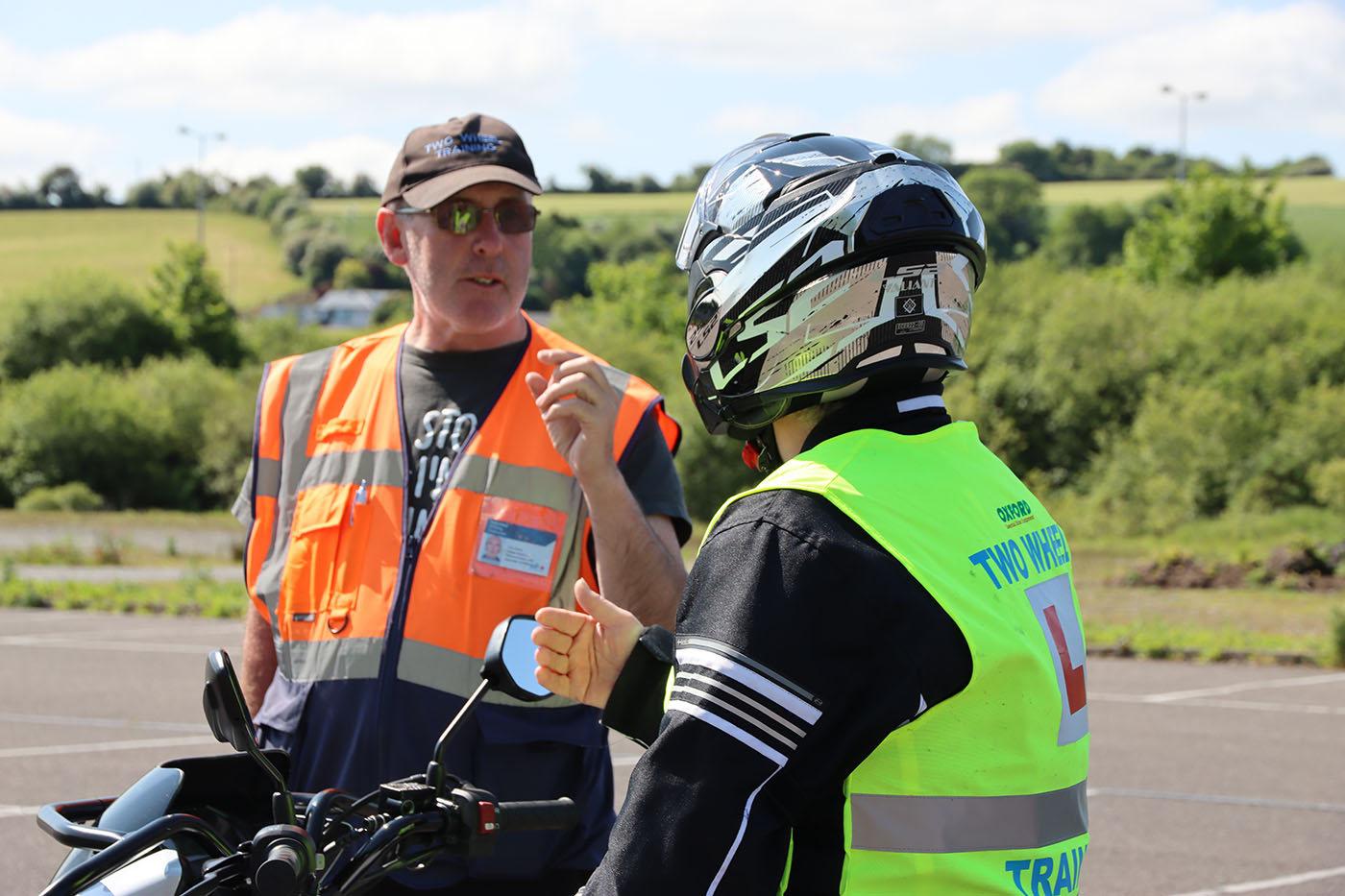 Colm O'Reilly
RSA Motorcycle ADI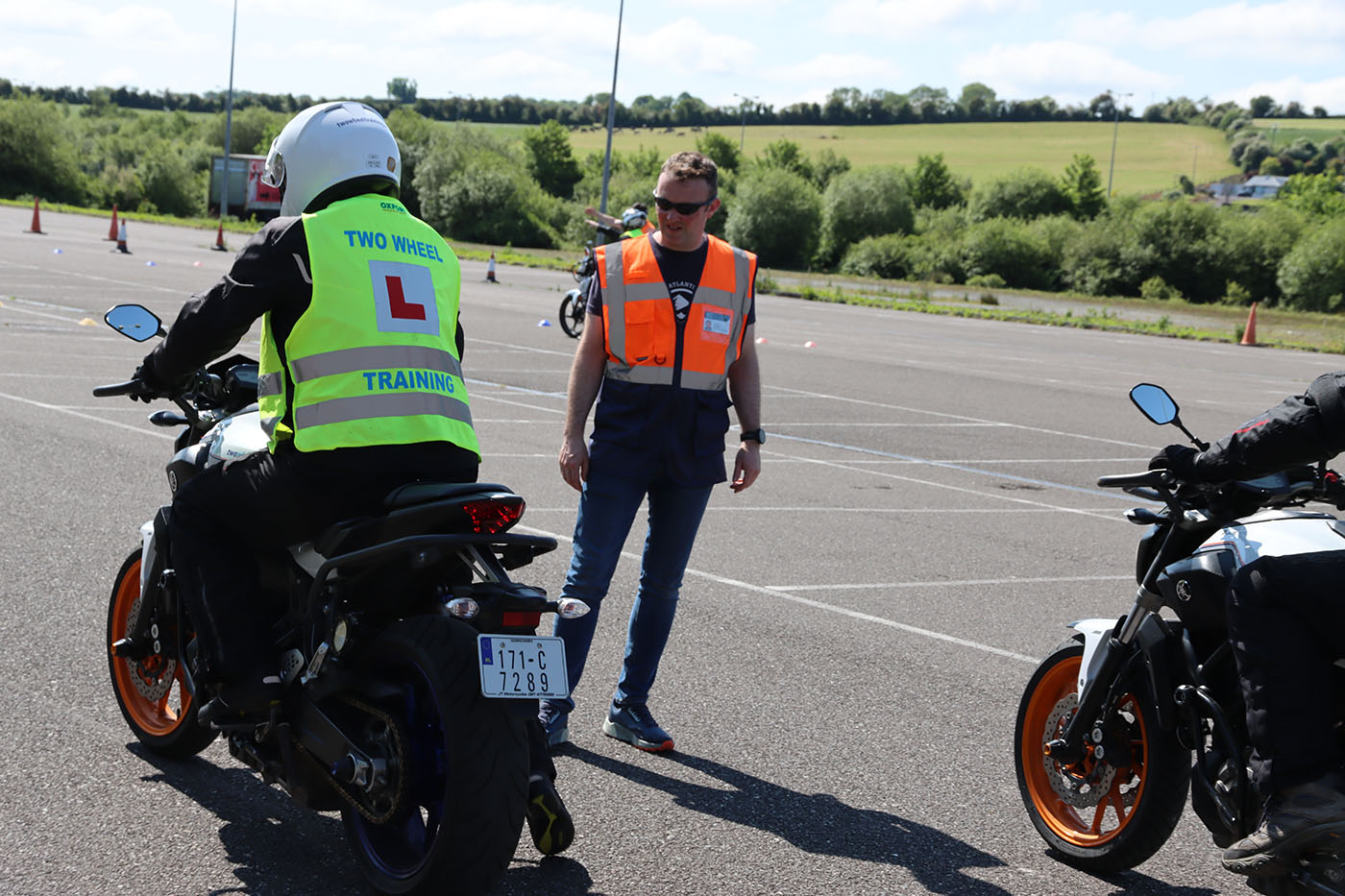 Declan O'Dwyer
RSA Motorcycle ADI
"LIVE THE DREAM"
Have you always wanted to ride a motorbike?
Two Wheel Training provide the motorbikes, insurance and gear.
Pretest lessons.
Inurance Assessments for Axa and Liberty
Advanced Training
Back to Biking Lessons
Initial Basic Training (IBT)
The Road Safety Authority ( RSA ) announced Initial Basic Training (IBT) for all new riders who obtained their temporary permit after December 6th 2010, any information required is available on www.rsa.ie or feel free to call us  on 877450646 for advice.
Two Wheel Training provide IBT at our RSA approved training centre Cork Greyhound Stadium, Bishopstown, Cork, just off the South Link road.
We are ideally located to train you in suburban, countryside and dual carriageway riding. We are a few minutes ride to the test centre in Ballincollig , so while doing your IBT you can also practice for your full licence test.
We have one of the largest approved training areas in Munster with a huge enclosed car park and provide affordable training. We don't train groups, normally 2:1 per instructor.
We are full time professional motorcycle training school and offer quality training with safety the number one priority at all times. We try not to mix beginners with experienced rides but we rely on the information we receive during booking .
Bikes, insurance and all protective gear is included or bring your own.During Module 1 you will learn all about the motorcycle gear ( PPE ) so there is no need to purchase any gear before you start IBT. You must for safety reasons wear your own boots during training.
Follow the "links" to all the local motorcycle dealers who will be happy to provide you with all the necessary clothing and remember shopping locally helps local jobs.If you have a problem with anything purchased on line, what you saved on the purchase will be immediately lost on postage returning the item not to mention the delay.
Our approved training centre is at Cork Greyhound Stadium (www.igb.ie) in Bishopstown just off the South Link Road ( Ballincollig Bypass ) and is one of Munsters largest training centres with first class facilities and a huge enclosed safe training area.
Insurance Assessment Programme
AXA  and Liberty Insurance have devised a skills training and assessment programme that is administered by approved motorcycle instructors. The programmes objective is to improve the skills of riders and to reward them through premium discounts.
All skill levels are catered for, from the new beginner to the experienced expert rider.
Grade two assessments take place over three hours and approximately 100 km of riding. The rider must display that he/she is highly skilled and very safe in all road and weather conditions. It is very unlikely that a rider who has not had several lessons over a phased basis and has not completed thousands of miles of quality practice will achieve this level. It should be noted that it is not possible for a motorcyclist to genuinely achieve this level of skill on a one day course.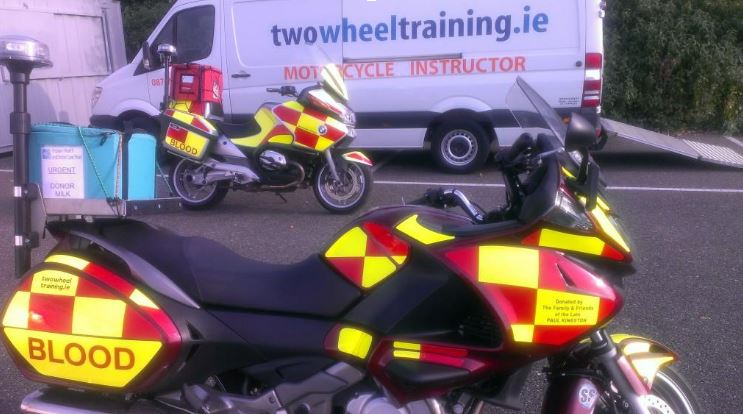 Blood Bike South is a charitable organization operating primarily in the southern region of Ireland. Two Wheel Training are proud to be associated with Blood Bike South since its foundation.
Their mission is to assist hospitals and other medical facilities, by providing a voluntary motorcycle transport service of blood and other urgent medical materials on an out-of-hours basis. Find out more at www.bloodbikesouth.ie